Viewing the Case Log
From the DMS Main Menu, choose Case Log System.


Initially, you will be presented with the "Chrono Log" view, which lists all of the cases in the system. By default, this list is sorted by date, with the newest cases first.


You can change views to the "MRCL Log" or "Category Summary" by using the View Mode selection at the top right of the page.
Sorting the List
In the Case Log lists, the current sort field and direction is marked with an arrow next to the column header.
To re-sort the list, either in the opposite direction, or by another linked field, click the desired field header.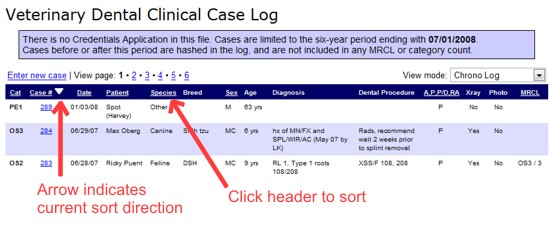 Changing View Options
By default, the MRCL-specific portion of a diagnosis or treatment entry (the part before the "//") is highlighted in a dark red color. You can change the color of the highlight by going to the DMS main menu, choosing Edit My User Settings and Preferences.
On the User Settings page, choose your desired highlight color, then click the "Save Settings" button.